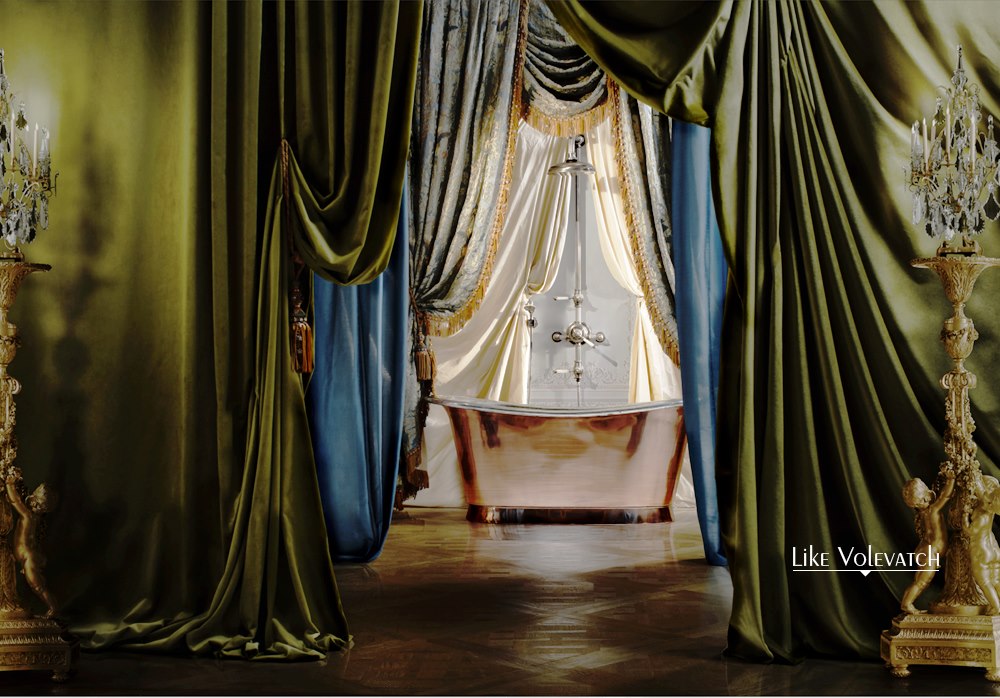 VOLEVATCH : A Glimpse of the Queen's Bathroom
The recent restoration of Marie Antoinette's bathroom in the
Palace of Versailles was a moment of a intense emotion for Maison VOLEVATCH, which allowed the acquisition of the tin-plated copper bathtub that today decorates this set with ultimate elegance.
Formerly embellished with a bath towel, the queen's bathtub spread rare perfumes of rose water, lavender and violet whose soothing qualities charmed its invaluable moments of intimacy. Versailles' collection by VOLEVATCH distinguished itself by the beauty and originality from its biased aesthetics. Thus, an acanthus leaf reigns in majesty beside the innumerable carved plant motifs reasons carved such as palmettes, gadrooned leaves, pine cones, ribbons, cherubs and ancient chasings; eternal attributes «rococo» style where profusion and exubérance were just an eccentric expression of refinement and the beauty at the time.
The purest rock crystals inserted in a bronze framework finely chiseled by hand, and afterwards soaked in a gold or a silver bath, such as the sumptuous scintillating treasures under the exquisite light of the sumptuous candelabra, celebrating the richness of an exceptional decorative style with flying colours.
Each goldsmithing is unique since it has been done completely by hand by talented craftsmen of ancient expertise. It is subject to the utmost care during its creation; and art casters, welders, polishers, carvers and engravers, carefully and delicately designing each and every element composing this prestigious collection of fine goldsmithing issued in a limited numbered series.
For a taste of Volevatch, visit our Esher Showroom, we are the UK's only distributer of Volevatch luxury brassware