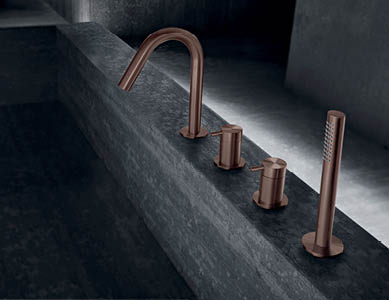 Introducing Radomonte PVD Finishes
The Radomonte collections of taps, wellness products and accessories are available in three exclusive PVD finishes: carbon, roseè and gold.
WHAT IS PVD?
PVD (Pyshical Vapor Deposition) is a superior quality process that creates a very thin film on the surface of the product. The finish obtained gives the product an even higher surface resistance, enhancing the shine of the material.
In addition, PVD is a biocompatible process, which does not create harmful residues for the environment or people's health.
The result? Additional protection from the corrosion of chlorides and detergents, such as normal household hygiene products, and greater resistance to scratches and abrasions.
Radomonte's design. An even more refined style.