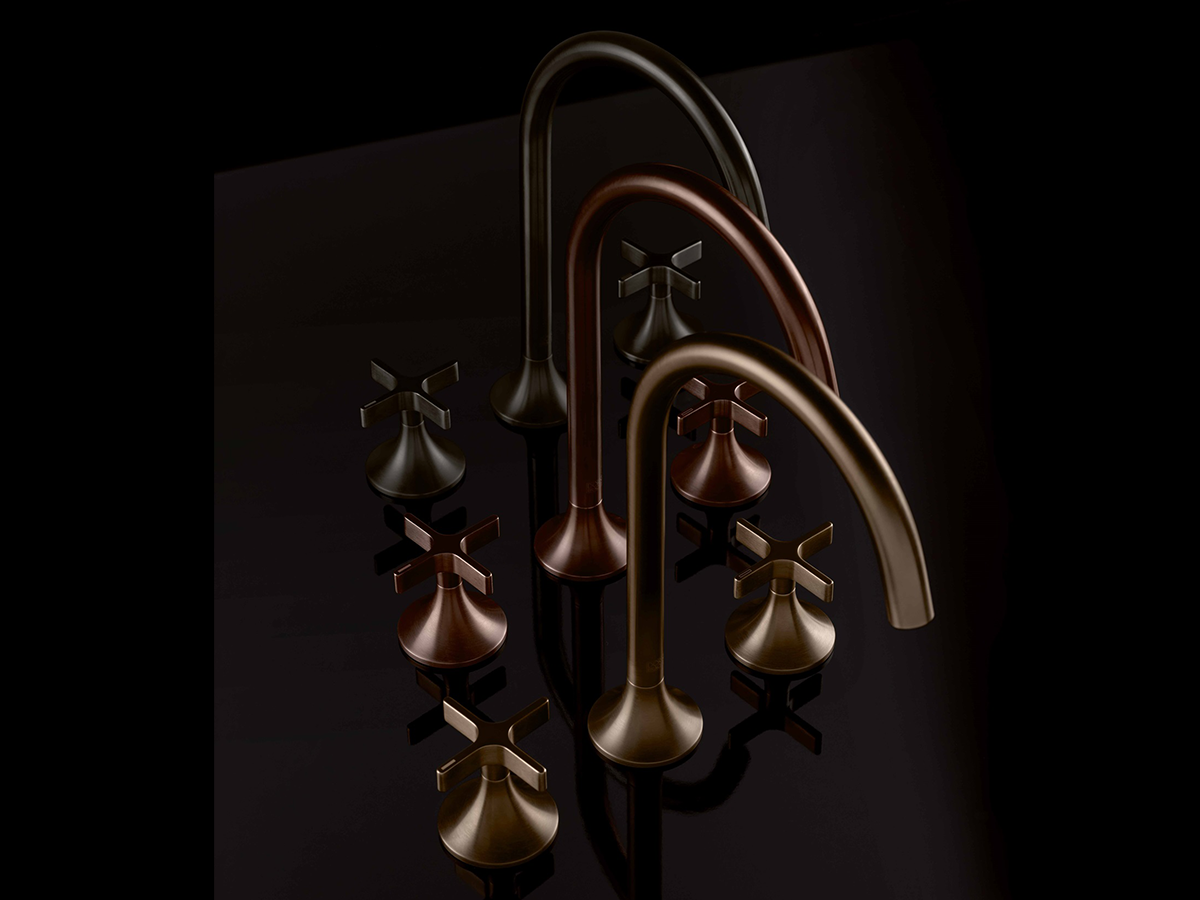 An elegant yet progressive design for a new modern-day iconography
By virtue of its elegant yet progressive design, VAIA harmoniously blends into traditional and modern-minimalistic architectures – as well as those that combine elements of different styles. A characteristic feature of VAIA are the soft radii, the fine silhouette and the flowing transitions. The conical rosettes appear to almost merge with the washstand. The craftsmanship is precise, down to the last detail: the joints are meticulously defined and the hidden aerator remains unnoticed until the water flows.
New colour collection adds even more creative scope
DARK PLATINUM MATT, DARK BRASS MATT and DARK BRONZE MATT: the new colour collection is characterised by its dark, silky-matt shades and slight brushstroke texture. Warm, soft and earthy, they embody a sense of originality and cosiness, thereby creating highlights in the bathroom which are equally archaic and contemporary. Exclusive to VAIA, the new finishes supplement platinum matt and polished chrome to provide new inspiration and even more creative scope.
Colours with a unique level of depth and brilliance
Thanks to a specially developed manufacturing process and a unique matting method that all of Dornbracht's finishes share, DARK PLATINUM MATT, DARK BRASS MATT and DARK BRONZE MATT raise the bar for depth and brilliance of colour to an unprecedented level. Additionally, the silky surface texture originating from the particularly fine brushstrokes is also exceptionally pleasant to the touch.
VAIA design principles
VAIA is based on the design principles that characterise all the Dornbracht series. The "5 Ps" – Proportion, Precision, Progressiveness, Personality and Performance – create a sustainable and long-lasting aesthetic appeal that is evident in the new VAIA series: its proportions are balanced, harmonious and precise. Its design is shaped by clear lines and exact transitions. The workmanship is outstanding, down to the last detail. VAIA picks up the latest trends in interior design, not to imitate them, but to give them a new interpretation, which – along with the new colour collection – contributes to a progressive style of interior architecture.