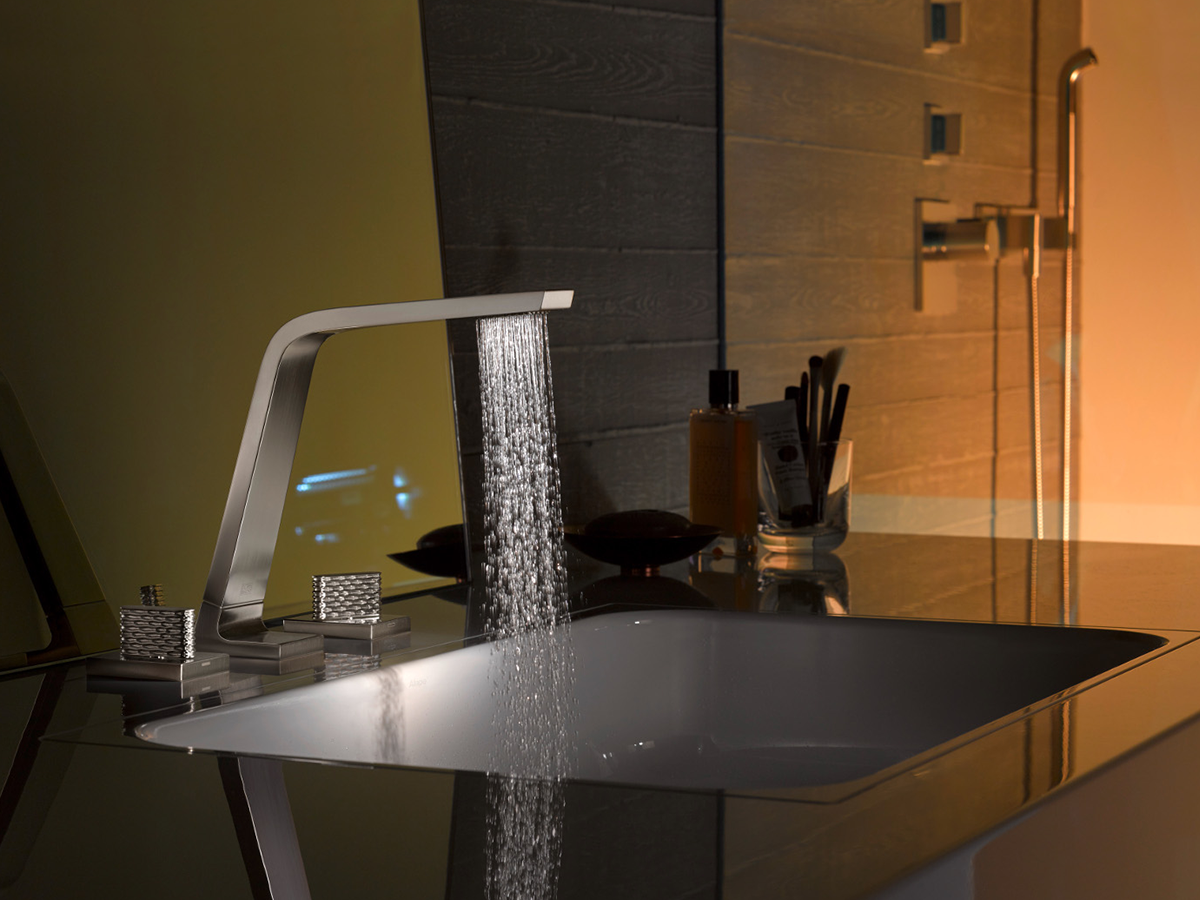 CL.1 – A FITTING IN A DYNAMIC AND SPORTY DESIGN
Dornbracht presents CL.1, a new series of fittings for the bathroom. The remarkable feature of this series is its fanciful design language – a design that combines hard and soft contours. The tapered, upward-reaching spout and the precise gap width between the base and the body of the fitting are typical of the CL.1 designer fitting. Both the product design and surface engineering of Dornbracht's CL.1 set new standards.
The handles of the CL.1 designer fitting are unusual and distinctive.
Two different relief texture options are available for the handles of this designer fitting. The choice of smooth or textured handles for the product means that everyone can get their own individual designer fitting.
Dornbracht CL.1: water flowing in a distinctive pattern at the washbasin.
Your hands are immersed in 40 soft, individual jets of water at the washbasin. The sprayface was developed specifically for CL.1 and features minimal splashing and a low water consumption (only 3.9 litres per minute).
The CL.1 designer fitting: dynamic, elegant and sporty.
Straight lines and surfaces, defined radii, the golden rule. Everything about the CL.1 designer fitting is coordinated and harmoniously proportioned, in keeping with the motto "sharpen your senses". The abbreviation "CL" stands for Dornbracht's current brand claim "Culturing Life", the number 1 for the first product design to emerge under this new brand direction.
CL.1 is available in the plated finishes polished chrome and platinum matt and includes a wide range of fittings and accessories for washbasin, shower, bath and bidet. CL.1 can also be combined with products from other series, in perfect coordination with the needs of the individual. The arrangement of outlets and controls can also be customised, which adds to the possibilities for individualised design. Dornbracht Smart Tools are a particularly user-friendly control option for the designer fitting. These digital control elements can accurately control the temperature and volume of the water, as well as offering useful presets and individualised scenarios at the touch of a button.
Made in Germany
Quality manufacturing and precision down to the last detail. Like all Dornbracht fittings, CL.1 is 100% made in Germany. The highest quality standards and years of experience have gone into producing high-quality, plated finishes such as polished chrome and platinum matt.