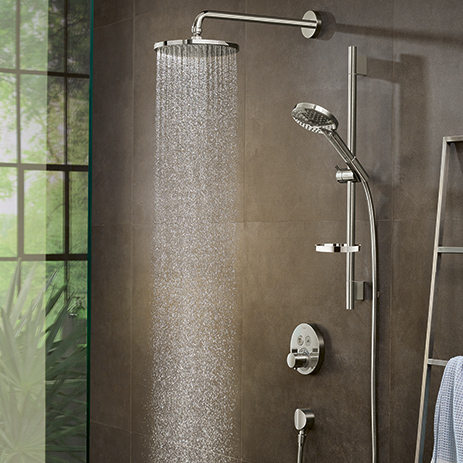 hansgrohe PowderRain: a showering sensation
With the touch of a button, you can experience in an instant the velvety-soft sensation that is PowderRain. In place of one single spray outlet for each nozzle, PowerRain exposes six fine openings that transform its generous spray into thousands of incredibly light micro droplets that gently fall on the skin without bouncing off.
Nature has shown that when concentrated, countless small objects combine together to deliver a
more intense impression. That's how PowderRain's advanced new spray technology creates a cascade of droplets that cocoon so much more of the body and intensify its skin moistening effect.
As a result, the water falls where it should – onto your body and nowhere else. Splashing becomes a thing of the past, it's quieter too, thanks those same microscopic beads of aerated water.
"When showering, water should fall on the body and nowhere else. The effect of enveloping the body in a warm, protective cloak of water is achieved by PowderRain with dozens of small water droplets. The innovation is in every single nozzle, which are placed precisely on the spray disc."
Jan Heisterhagen, Vice President Product Management
Imitating nature's own showers and drawing inspiration from the rainforest's warm and misty droplets, hansgrohe is proud to unveil the new PowderRain spray. This highly advanced spray mode is reserved exclusively for our brand-new range of hansgrohe Raindance Select S showers.
Far finer than conventional shower jets, PowderRain creates a sensuous showering sensation that demonstrates the determination of hansgrohe to deliver new and innovative ways to enjoy the beauty of water.
In true hansgrohe fashion PowderRain not only adds a different dimension to showering but at the same time efficiently reduces water and energy consumption to help safeguard our planet's natural resources.
Visit hansgrohe to Find Out More….