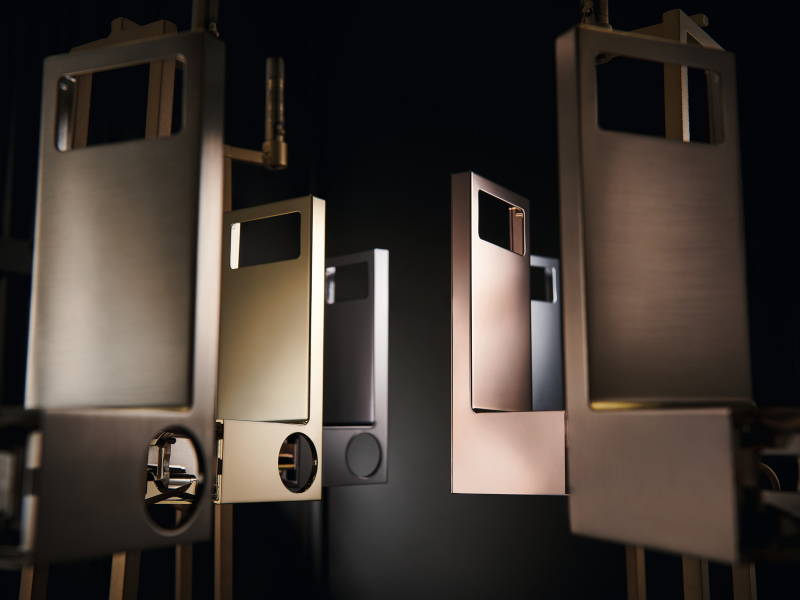 AXOR MYEDITION.
A BREAKTHROUGH IN CUSTOMIZABLE BATHROOM DESIG
Rewriting the rulebook once again. AXOR's exclusive new product range puts the client in control. AXOR MyEdition. A collection for individualists. Created in collaboration with Phoenix Design.
Unveiled in Milan at the highest-profile design event on the global calendar. The Salone del Mobile. Where the leading edge congregates. Where products debut and trends are set. AXOR MyEdition. Warmly welcomed by creative trailblazers. Instantly revered by architects, interior designers and furniture experts at the top of their game.
AXOR MyEdition is a breakthrough in customizable bathroom design. A collection of state-of-the-art linear taps. Available in 15 exclusive hues and textures from the AXOR FinishPlus range. From Polished Gold Optic to Brushed Black Chrome. The taps are crowned with a choice of plates made from four exclusive materials. Metal. Wood. Leather. Marble. Each with its own sumptuous texture. Elevated by a solid yet sleek tap design. Each creating a unique aesthetic. Play with color. Experiment with texture. Make a personal statement. Whatever the combination, the results are striking.
Find Our More Contact: info@thewatergallery.co.uk