10 Small Soaps in a Gift Box – all in Pink 350g
10 small handmade soaps in a gift box 350g
Using the unique Heyland & Whittle recipe, only the purest ingredients, including a vast array of essential oils, herbs and spices, are blended to create these handmade soaps.
The fragrance from the soap is enough to fill a bathroom with fantastic aromas.
A selection of our 10 traditional soaps, perfect for the indecisive gift receiver!
Includes a menu card so you know exactly what is what!
Availability:: Usually Ships in 24 to 48 Hours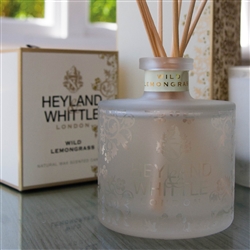 Reed Diffusers
Wild lemongrass Reed Diffuser
The stylish way to fragrance your home!
Reed Diffusers effortlessly and continuously add an enveloping scent to any room. Pop out the cork and place the rattan reeds into the bottle immersing them in the liquid allowing the perfume to be drawn up through the reeds and release the luxurious, opulent, Heyland & Whittle fragrances we all love!
To increase the intensity of the fragrance remove the rattan reeds, flip them over and place back in the bottle.
Uniquely crafted, sprayed and creatively etched the attractive Heyland & Whittle Reed Diffuser glass bottle is a subtle, sophisticated decorative ornament to adorn your home.
When you refill your diffuser you will need fresh reeds for better fragrance throw. Each item is carefully handmade and beautifully boxed for the perfect gift!
Wild lemongrass: Invigorating and Intoxicating
Wonderfully tropical with a sweet and lemony notes. Aromatic crisp and tangy Wild Lemongrass excites the senses and revives the spirit. Freshly cut Lemongrass is refreshing, uplifting, powerful and sharp.
DIRECTIONS FOR USE
Immerse the rattan reeds in the bottle allowing the perfume to be drawn up through the reeds and fragrance your room. To increase the intensity of the fragrance occasionally remove the rattan reeds and replace upside down in the bottle. Lasts for up to 4 months. Refills available. After 4 months, the reed diffuser reeds will need replacing to ensure the room fragrance is drawn into the atmosphere effectively.
TAKE CARE flammable, keep away from naked flames and heat. This product may damage fabrics and surfaces. Do not swallow. Keep out of reach of children and pets. Lasts for up to several months. Refills available
Availability:: Usually Ships in 24 to 48 Hours
£

35.00