10 Small Soaps in a Gift Box – all in Pink 350g
10 small handmade soaps in a gift box 350g
Using the unique Heyland & Whittle recipe, only the purest ingredients, including a vast array of essential oils, herbs and spices, are blended to create these handmade soaps.
The fragrance from the soap is enough to fill a bathroom with fantastic aromas.
A selection of our 10 traditional soaps, perfect for the indecisive gift receiver!
Includes a menu card so you know exactly what is what!
Availability:: Usually Ships in 24 to 48 Hours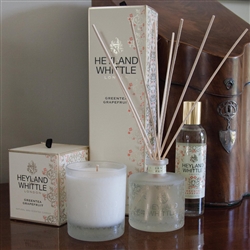 Candle
Greentea grapefruit Candle in a glass Enhance the atmosphere of any room!
Our GOLD Classic range of candles are housed in a uniquely designed and etched glass vessel with nine sophisticated scents hidden within.
The premium packaging boasts gold leaf detail with coloured flowers weaved into the right side of each presentation box oozing luxury for the ultimate home fragrance experience.
Invite a memorable and lasting ambience with nine classic layered aromas that have been expertly created to suit the season, to soothe and relax or uplift your mood.
Each item is carefully handmade and beautifully boxed for the perfect gift!
Greentea grapefruit: Uplifting and Refreshing
Crisp citrusy Grapefruit distinctively zingy and zesty, combined with light, fresh Oriental Greentea. Heyland & Whittle have created a clean, uplifting and feel-good fragrance to energise, excite and revive the senses.
Our new improved candles are made from natural Soy sustainable wax which burn very evenly down the glass tumbler.
Approximate burn time 40 hrs.
230g candle.
Availability:: Usually Ships in 24 to 48 Hours
£

30.00